Appointment System
Opening hours are from 08:00 to 18:30, Monday to Friday, when the reception office is open to book appointments. You may make an appointment in person or by phone on 01245 262255 or online via the link at the top of this page*.
If you opt to use the call back system when making your appointment it is important that you do not use your phone for any other purpose until you have had your call back, otherwise the phone system will remove you from the queue.
The receptionist will try and book you with the doctor of your choice, but if this is not possible an alternative will be offered. If you cannot keep your appointment, please cancel it so that it can be used for someone else.
To access the online booking system you will need to request a username and password from the surgery.
Urgent Appointments
A proportion of each day's appointments are reserved for same-day booking, and these are particularly appropriate for acute illnesses.
Our receptionists are trained to help you and make the best use of the doctors' time. We hope you will understand if at times they cannot satisfy your requests completely.
Enhanced Access
Out-of-hours appointments will be available from 6.30pm to 8pm on weekdays, and from 9am to 5pm on Saturdays.
In response to patient feedback, we have arranged the following. Appointments will be available as telephone appointments or face to face appointments at the Baddow Village Surgery, Longmead Avenue, Great Baddow, Chelmsford, CM2 7EZ.
All the out-of-hours appointments are non urgent, and will be routine. They are not available as walk-in appointments. You will need to book the appointments in advance.
To book an out-of-hours appointment, you should contact your regular GP practice in the usual way. They will advise you on the appointments which are available, and which healthcare professional is the right person to help you.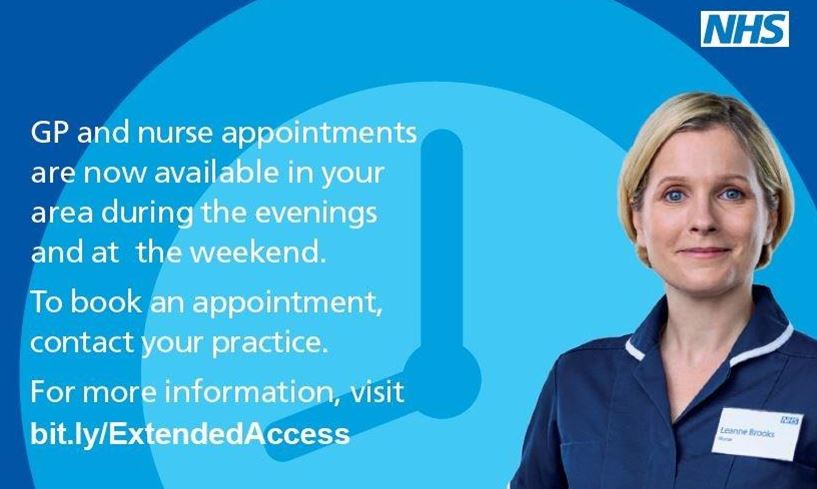 Home Visits
Visits are only done when, in the judgement of the clinician, they are justified by clinical need. Patients are responsible for providing transport to the surgery when this is not the case.
Acute visits should be requested as early in the day as possible so that they may be allocated to our clinicians (doctors or Nurse practitioners) in the most effective way.
Cancelling an appointment
You can cancel your appointment by email:
mseicb-me.beauchamphousereception@nhs.net
To cancel via email you must give at least 24 hours notice.
You must include the following information
Appointment date and time,
who the appointment is with,
patients first name, surname and date of birth.
For any queries phone 01245 262255.
You can also complete our appointment cancellation notification request form. This can only be used if your appointment has been arranged for more than 24 hours in advance (excluding weekends and public holidays). You can also text to cancel your appointment.
If you need help when we are closed
Click here for information about out of hours services available.
If you need help with your appointment
Please tell us:
If there's a specific doctor, nurse or other health professional you would prefer to respond
If you would prefer to consult with the doctor or nurse by phone, face-to-face, by video call or by text or email
If you need an interpreter
If you have any other access or communication needs
Not Registered for Online Services?
Phlebotomy (Blood Test) Services
Phlebotomy Appointments are available to book at the practice or at Broomfield Hospital and Chelmsford Centre Health Hub by appointment only.
To book a blood test appointment online at any of the Mid-Essex Clinics please follow the link below to register and book.
https://www.swiftqueue.co.uk/midessex.php
To book a blood test via telephone at any of the Mid-Essex clinics please telephone 01245 516963.
All under 16-year-old patients can only receive blood tests at Broomfield Hospital by appointment only. Please visit https://www.mse.nhs.uk/blood-tests for more information.
Results of Tests and Investigation WE ADVISE PATIENTS TO VIEW YOUR TEST RESULTS VIA ONLINE SERVICES or NHS APP and these can be obtained by telephoning the surgery on (01245 262255 or calling into the surgery in person. please phone the practice pressing option 4 between 4.00pm - 6pm Monday - Friday.
Enquiries about tests ordered by the hospital should be directed to the hospital.
Please contact the provider where you had your test.
Mid Essex Hospital
Broomfield Hospital
Court Road
Essex
CM1 7ET
Telephone: 01245 362 000
Alternatively you can contact the ward or department where you had your test directly.
Basildon University Hospital
Nethermayne
Basildon
Essex
SS16 5NL
Telephone: 01268 524 900
Alternatively you can contact the ward or department where you had your test directly.
Herts & Essex Hospital
Haymeads Lane
Oxford and Cambridge Wards
Bishop's Stortford
CM23 5JH
Telephone: 01279 655 191
Alternatively you can contact the ward or department where you had your test directly.
Text Reminder Service
We have a texting service which allows you to receive confirmation and reminders about your appointments.
To have this service you will need to register by completing a consent form.
Please remember to update your contact details with us when you change address, telephone numbers and email address.
Travel vaccinations
If you're planning to travel outside the UK you may need to be vaccinated against some of the serious diseases found in other parts of the world.
Teaching and Training
The practice is approved for training. We usually have one or two GP registrars, working under the supervision of Dr Adiukwu and/or Dr Singh. Registrars are experienced doctors gaining the skills necessary to work independently as a GP. As part of this training, it is occasionally necessary to record consultations. Your consent will always be requested for this.
From time to time medical or nursing students are attached to the practice. Patients are always informed, and have a right to refuse to have a student in their consultation.